Our church hosted a baby shower for us in honor of Elliana yesterday. It was so much fun. Joy was my official hostess, but Katherine, Kathy, and Carolyn helped her with food preparations, and Tiffany was there helping set up.
Shannon spent some much needed time with her husband, but sweet Berta came and took pictures of the shower. It's apparent that she too has a gifted eye for photography.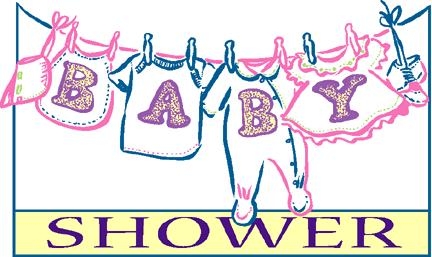 Bottles and booties, diapers and more
Let's shower Elliana Joy with gifts galore!
Please join us for a shower honoring
Courtney and Brandon Boyington
Sunday, May 5th 2-3:30 pm
Calera First United Methodist Church
Registered at: Buy, Buy, Baby and Target
I held onto the board and scrapbook paper that Liz had used with my previous baby shower. I absolutely love the idea of forgoing a traditional guest book for attendees to leave well wishes instead.
I did arrive a little bit early to set up my own table with some special items. Included are Elliana's gender scan photo, our ART fertility bear, "worth the wait" bibb, baby girl wreath, pink cowgirl boots, and bump photo scrapbook.
Miss Wendy was not able to attend my baby shower this weekend, but she did prepare the cake. It was so pretty and yummy too!
The food was great too. Joy had fruits and veggies for me along with some chips and salsa (in honor of Cinco de Mayo), some awesome chicken salad made by Carolyn, and sausage balls fixed by Katherine.
I have no idea what I'm pointing at or saying.
With Joy, my beautiful hostess!
My life would be dramatically different without her.
It's so much fun to be pregnant because you get to fix your plate first and it never matters how many times you go back for "seconds."
With my fabulous hostess, Joy.
Joy, myself, and Katherine
These ladies have provided us with nothing but support and encouragement in the past two years.
They are going to love Elliana so much!
These girls are absolutely hilarious!
I already have such fun and trustworthy babysitters ready for Elliana.
I seriously have no idea of my size until I see pictures! I look in the mirror, but it's not the same. But I know that when I see my reflection, I see the amazing miracle of my "bigness."
I must be enjoying my food? I was especially tired yesterday after spending two days preparing for the banquet and maternity pictures.
Nesia only stayed for a short while at the baby shower. She and Grandmommy left to go take a nap!
The Gift Portion of the Baby Shower
I was definitely amazed at the presents! It felt like it took forever for me to open everything. Not everyone could attend, but they still sent gifts for Elliana. We are so blessed by our astounding faith family!
Yes, I wore my house shoes. I had packed my flip flops to wear but never put them on!
Nobody seemed to mind.
Gifts from Mom and Beth
Gifts from Mom and Beth
Gifts from Brittany
From Grandmommy to Elliana
It's a beautiful gown with her monogram on top!
LaShawn also brought me back a beautiful scarf from the Holy Land.
Christie made this beautiful blanket and two burp cloths for Ellie.
Me tearing up at Eleanna's card.
I had no idea that the bumbo chair also came with a cover!
"Does this diaper make my butt look big?"
It got a thumbs up from Joy!
A diaper cake made by Aunt Penny
Bath time stuff from Beverly
I love ALL things monogrammed!
Miss Elaine gave us the cutest little outfits!
Going through all of the goodies that Tiff and O got for Ellie.
A Willow Tree statue of a family holding their newborn from Tiffany!
A picture frame from Dee that reads a verse from 1 Samuel.
We plan on putting Elliana's baptism picture in this frame!
Opening my gift from Joy, Katherine, and Kathy.
They purchased us a travel swing for Elliana.
Brandon showed up at the scheduled end of my shower, but I was still opening gifts!
You can tell that I'm absolutely exhausted.
Our faith family has been amazing during our infertility and pregnancy journey. We have had so much support from everyone and cannot wait to share Elliana with them. This baby girl is going to have so many honorary aunts and uncles!

Once the shower was over, everyone helped clean up and get the gifts to the car. Clay and some of the youth were up at the church and Brandon joined them in a Nerf gun war. They were hilarious! We sat around talking for a while and then I had to get home. Mom came back over with us and she and Brandon assembled the baby swing. After Mom left, I showed Brandon ALL of the gifts we received and then we started organizing. I'll post more about that later.

I've got my work set out for me today with more baby organization, baby laundry, and overall getting ready for Miss Ellie's grand entrance!