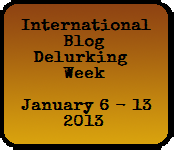 "It's International Blog Delurking Week, which comes each year on the second week of January (or the first full week of the month). It runs this year from the 6th until the 13th, so you have seven days to slither out of the reading closet and check in with an "I'm here" comment."
Please let me know who you are! I feel like my readership is halved from those who I know in real life, and those from the infertility community. My blog has grown so much since I started posting in 2010.
Also, let me know if you have any suggestions for future writing prompts. Life has gotten busy, but I don't want to solely write about our pregnancy with Ellie. My goal is to begin writing more about God's blessings, finances, and who knows what else?!?